Properties:
specialized 3-layer hoses
(reinforced with polyester thread) and 1-layer (unreinforced)
made of PVC
the composition of the snake's soul has been developed for specialized use in oil and gasoline
flexible and light
resistant to mechanical damage
effective operation at low and high temperatures (-20 ° C to + 60 ° C)
free of cadmium, barium and lead.
Application: for the transfer of fuels; petroleum products; mineral oils.
Color: blue transparent as standard.
Available lengths: 25m and 50m.
Available internal diameters: from 6 mm to 12 mm.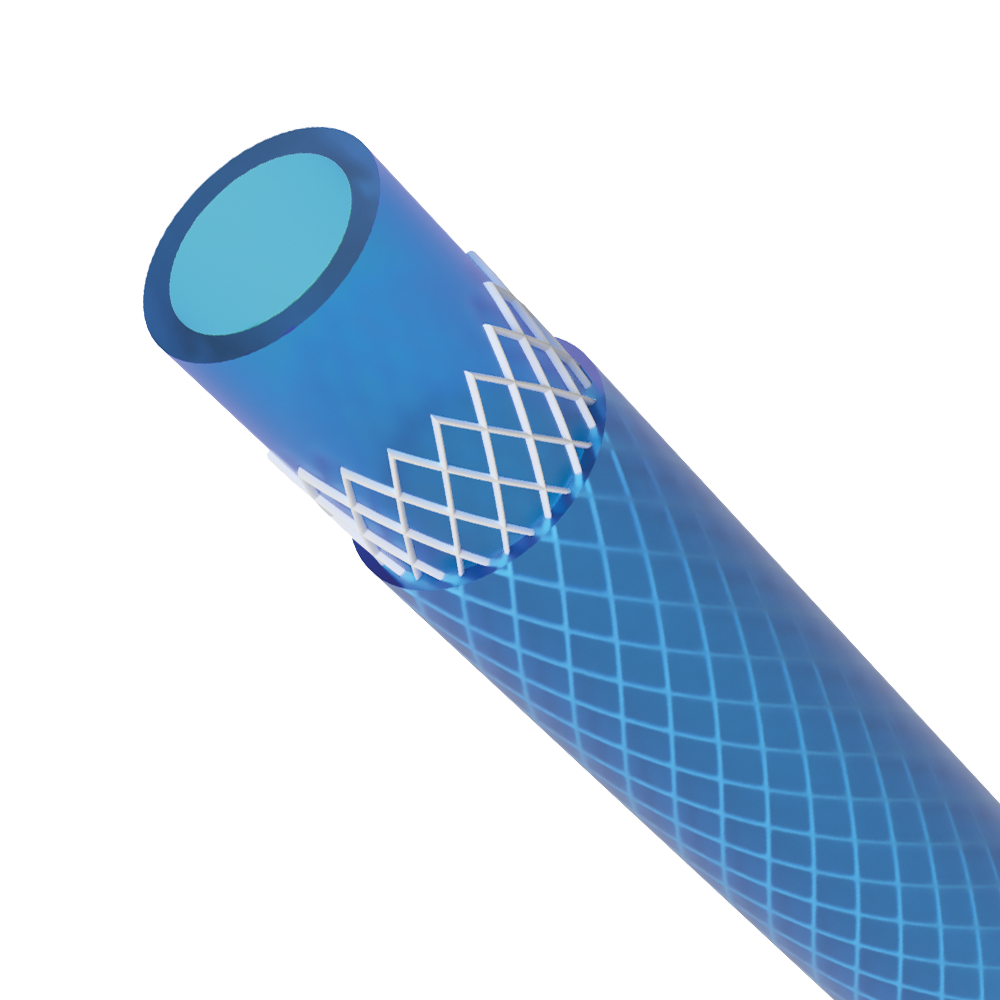 product code
inner diameter [mm]
thickness of the wall [mm]
length [mb]
EAN code
armed
unarmed
armed
unarmed
–
1104031025
3,0
1,0
25
–
5903268093768
–
1104041025
4,0
1,0
25
–
5903268093782
–
1104051525
5,0
1,5
25
–
5903268090774
1103061425
1104061525
6,0
1,4 / 1,5
25
5903268090736
5903268090781
1103081625
1104081525
8,0
1,6 / 1,5
25
5903268090743
5903268090798
1103101725
1104101525
10,0
1,7 / 1,5
25
5903268090750
5903268090804
1103121825
1104121525
12,0
1,8 / 1,5
25
5903268090767
5903268090811
–
1104031050
3,0
1,0
50
–
5903268093775
–
1104041050
4,0
1,0
50
–
5903268093799
–
1104051550
5,0
1,5
50
–
5903268090866
1103061450
1104061550
6,0
1,4 / 1,5
50
5903268090828
5903268090873
1103081650
1104081550
8,0
1,6 / 1,5
50
5903268090835
5903268090880
1103101750
1104101550
10,0
1,7 / 1,5
50
5903268090842
5903268090897
1103121850
1104121550
12,0
1,8 / 1,5
50
5903268090859
5903268090903
GENERAL INFORMATION
Storage and use of plastic hoses is essential for their durability. The physical properties of plastics change during the entire
lifecycle of the hose. These changes are the most widely distributed in time may accelerate if the hose is subject to longterm exposures to sunlight, mechanical damages or inappropriate storage of either twisted or kinked hoses.

RULES FOR SELECTING A HOSE
Obtaining optimum performance of the hose can be achieved by using appropriate accessories and, above all, through the
selection of a hose depending on the indoor and outdoor conditions in which the product will be operating. By analyzing
the actual working conditions, we select: diameter, type and quality of the hose. We should determine the parameters
associated with the media that we wish to transfer at a distance through the hose.
Compliance with the general rules ensures optimized selection of the hose according to the needs:
– specify the material/ media you want to transfer
– verify the connection and compatibility in relation to the diameters
– determine the exact size and length of the hose taking into account the length tolerance
– remember not to exceed the recommended pressure

STORAGE
The optimal temperature in which to store plastic hoses is from 10ºC to 25ºC. It is not recommended to store hoses at
temperatures above 40ºC. Remember that low temperatures and especially the temperature below 0ºC negatively affect
the stored hoses. We also recommend to avoid storing the hoses in the immediate vicinity of heat sources. We recommend
that hoses that do not have special purpose not to be used and stored with active chemical substances, including solvents,
acids, disinfectants as well as oils, lubricants and fuel.
The storage period for hoses should be shortened as much as possible. During storage, remember to make sure that
humidity does not exceed 65%. Hoses should be stored without stress, compression and any other factors that might
contribute to the deformation of the hoses. We pay particular attention to not damage the hoses during transport. Hoses
should be protected from rodents. You should also pay attention to make sure that the hoses do not constitute a form of
fun for dogs and cats, and other domestic animals.

EXPLOITATION
We recommend that you make sure to not damage the hose with a sharp object when opening the packaging. Before the
operation, you should inspect the house visually, in particular, making sure that the hose is not blocked on either ends, is
not cut or free from mechanical damage.
Be sure to use the hoses in accordance with their intended purpose. Do not exceed the working pressure specified for
each type of hose. It is important that the transferred media have the recommended temperature, which must not be
exceeded. Hoses must be properly used without breaking the structure of the hose or twisting and tangling it. Excessive
load when twisting the hose or its tangling might cause changes in its structure, which may in turn lead to loss of efficiency
and consequently to bursting of the hose.
In case of"permanent"installation, you should pay close attention that the hose can freely move with increased pressure.
In case of "mobile" installations, you should pay close attention that the hose in not rubbing against sharp objects or sharp
edges of walls so as to prevent the uncontrolled collapse of the hose.
We recommend to not keep thee hoses under pressure if there is no such necessity. Also note that the hoses under
pressure require particular attention and caution.

MINTENANCE
Its frequency should depend on how often the hose is used. When checking the hose, pay attention whether the hose is
securely connected, there are no visible cracks, deformations or irregularities on its outer structure. The appearance of
bubbles in conditions under pressure, as well as deformation and local bulges, will indicate the need to replace the hose.
We do not recommend repair the hoses. In the event of damage to the ends, the end can be cut.
Do you need help choosing the right product?